#Sweetest Day, coming soon - #October 19th! - is a day where you give recognition to someone sweet and/or special. This#holiday is said to have originated in Cleveland, OH. It's said that Herbert Birch Kingston, a Cleveland, Ohio philanthropist and#candy company employee started Sweetest Day. He wanted to bring happiness to orphans, shut-ins and under-privileged. His intent was to show these people that they were not forgotten. In 1922, he started this holiday by giving candy and small #gifts. He often used movie stars to distribute the gifts. Ideally - it's best to continue that trend and giving candy, etc. to those less fortunate.

Did you know?

With this holiday always being on a Saturday it is often difficult to book a wedding venue on this day. It should be done well in advance.
Hallmark started making Sweetest Day cards in the mid-1960's
If you are a single mom or know of a single mom that hasn't received gifts for a long time and is experiencing  difficulties in their life,  please fill out the form below. Your information will be forwarded to La Bella Baskets.   Every month we will read through the entries and select  several single moms information and we will send a gorgeous basket to lift her spirits and bring her a smile.  Take a look at our video below.  
http://www.youtube.com/watch?feature=player_embedded&v=Mnx983ika-Q
If you have a single mom you want to see nominated, please contact me and I will be happy to send in your nomination.  
Crisp fall days, apple picking, piles of leaves, and Thanksgiving dinner with treasured family and friends … all coming soon.  Enjoy this video created in the spirit of our beautiful Autumn season.  :)
HAPPY HALLOWEEN!  Our Halloween baskets are ready to go and shipping begins October 1st!
BABY TIME? Give that special someone a BEAUTIFUL gift for their new baby with the Sweet Baby of Mine Basket!

The Sweet Baby of Mine Basket is a fabric lined storage hamper filled with baby items, and it is available in pink or blue. This gorgeous teddy bear delivers your good wishes along with cute little clothing items, tiny toys, and a baby picture frame. All of your friends or family members will love to receive the Sweet Baby of Mine Basket when their babies arrive!

Fabric Lined Storage Hamper
It's a Boy/It's a Girl Baby Teddy Bear w/Tee Shirt
Baby Bear Rattle
3 pc Terry Cloth Baby Wash Cloth
Baby Booties
Baby Beanie
Baby Tips for Moms and Dads Book
5x7 Baby Picture Frame Holds a 3x5 Photo
100% Cotton Baby Tee Shirt
9 oz Johnson and Johnson Baby Soap
Baby Burp Cloth 
Available In Pink and Blue please type in the color choice at check out comment area.
www.aspiregiftbaskets.labellabaskets.com
So true (at My Beach)
The most
stereotypical Father's Day gift
is the necktie, and is
unofficially 
considered the
official
Father's Day gift. More recently, there has been an unofficial
not another tie
trend that has inspired gift givers to get Dad anything but a tie for Father's Day (unless it is a crazy or humorous one).  
Handyman gifts
and camping, fishing and yard accessories as well as general outdoors related gifts are commonly given gifts. Gifts of food like gift baskets or anything that can be grilled such as steaks, sausages, pork and BBQ chicken are also popular. Depending on Dad's interests, golf related, sports memorabilia, automotive and office gifts or toys can also be good choices.
In keeping with the above, please check out our super Father's Day Gift Baskets at www.aspiregiftbaskets.labellabaskets.com today!  We have something for EVERY Dad out there!
Mother's Day 2013 - NEW ARRIVALS!!!
Remember to get all orders in to me by Friday, May 3rd to make sure the delivery will be on time.  :)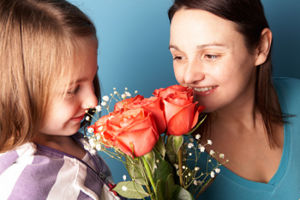 There are many American Mother's Day Traditions.  Moms will be served breakfast in bed by their children and children will present their mothers with gifts. These are typically sentimental and thoughtful gifts expressing their love and gratitude and may be gifts that were handmade or bought in a store. This is also considered one of the busiest holidays for the telephone lines as many children will call their moms to wish them a Happy Mother's Day. Restaurants have long wait times from brunch to dinner as taking mom "out to eat" is common. Of course, you don't want mom to cook on "her" day.
Adult's will give their mothers red carnations as this is the official flower of Mother's Day. If their mother has passed white carnations are placed at the grave site.
Today, Mother's Day is not just for moms but all women who have had a "motherly" influence in a person's life. It can be aunts, grandmothers, godmothers, sisters, or even friends who receive recognition on this day. Many times a mother will give a gift to her daughter who is celebrating her 1st Mother's Day.
A Mother's Day Tradition in Germany is the children will present their mothers with a bouquet of flowers and giving a Mother's Day card has become very popular. Mother's Day is also celebrated on the second Sunday in May.
In England the Mother's Day Tradition is that the domestic workers are allowed the day off to spend time with their families. Churches also give flowers to children to give to their moms as a token of love.
Visit our website at www.aspiregiftbaskets.labellabaskets.com to choose something lovely for your special mom!  Between gift baskets, farm fresh flowers, oh so fragrant soy candles, and scrumptious cookie bouquets you're bound to find something wonderful for her.  :)
Does Momma Love Her Tea???
Send her this TEA LOVERS LITTLE TEA POT GIFT SET for Mother's Day this year!
Invite mom to brew away her day with this sweet, sophisticated tea gift set! She'll love the delicate rose stoneware teapot and matching cup with two varieties of rich, tea to savor. She will love it – and you! Includes: White gloss basket, Stoneware rose teapot, rose tea cup with saucer, Chocolate truffle cookies, Raspberry chocolate cake, green tea, breakfast tea, butter toffee caramel corn, Chambery truffles, chocolate covered pretzels, completed with floral enhancements and a butterfly. This gift weighs 5 pounds and measures 16x12x12 
April 21-April 27 is Administrative Professional's Week. Your front staff members are your first line of communication for your clients, patients, etc. We KNOW they work very hard at their jobs but as busy as we all get, I'm sure we don't show that appreciation as much as we should. Take this time to show your staff members just how special they are. We have a variety of wonderful items to choose from. Visit my website at www.aspiregiftbaskets.labellabaskets.com to choose something beautiful for them. :)